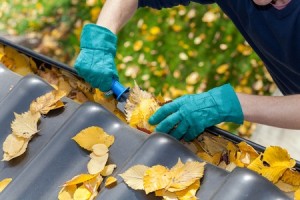 Long winters can subject your home to some serious wear and tear. Snowmelt can reveal all sorts of issues of varying severity that went unnoticed throughout the cold season. It's important to take care of these maintenance items quickly in order to protect your home from further damage. The spring is the perfect time to get out and tackle these molehills before they become mountains. In this entry, we'll look at a few simple steps you can take to protect and preserve your home this spring.
Clean Your Gutters
Your gutters serve an important purpose – directing rainwater safely away from your home. Clogged gutters can cause water to pool and pour down the exterior surface of a house, which can eventually lead to mold, mildew, and even rot. If you notice vegetation blocking your gutters, you'll want to clean them sooner rather than later.
Get a Termite Inspection
Moisture from snowmelt can cause the wood around the base of your home to decay, creating an ideal feeding ground for termites. Often called "silent destroyers," termites can wreak havoc on the wood framing in a home. If you notice any rot around the foundation of your home, a termite inspection should be a high priority on your spring to-do list.
Clear Dryer Vents
Clogged dryer vents not only reduce the efficiency of your dryer; they also constitute a fire hazard. Be sure to clear any lint from the inside of your dryer vent as soon as you are able to do so.
Inspect Your Washing Machine Fill Hose
While you're cleaning your dryer vent, you may as well check the fill hose on your washing machine for any signs of wear as well. A broken fill hose can flood your laundry room with water in minutes. If you see any cracks in the hose, pick up a new one from your local hardware store.
Touch Up Paint
In addition to serving an aesthetic purpose, paint also helps to seal and protect your home from moisture damage. If you notice any paint peeling, be sure to touch it up with a fresh coat.
Concerned about the condition of your home this spring? Give us a call today for a consultation.