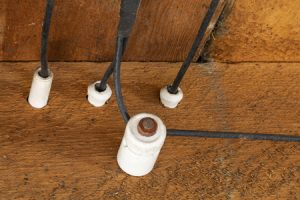 If you're thinking about buying an older home, be sure to keep an eye out for knob and tube wiring. This outdated style of wiring, commonly used in homes built between 1880 and 1950, is considered obsolete and may constitute a safety hazard. Here's what you need to know:
How Does It Work?
Knob and tube wiring utilizes copper conductors that are protected and insulated by porcelain tubes. Along their length, the tubes are supported by porcelain knobs that are nailed to nearby studs and joists. When the wires enter a wall or switch, they are protected by a "loom." The loom is made of flexible cloth or rubber insulation. Note that knob and tube wiring cannot support three-pronged appliances because it lacks a ground wire.
Is It Dangerous?
Knob and tube wiring is not inherently unsafe. Rather, it can become hazardous due to age, improper modifications and situations where building insulation envelops its wires. Because it has no grounding conductor, knob and tube wiring is also more vulnerable to fires than modern electrical wiring.
Is It Legal?
While knob and tube wiring is not permitted in any new construction, there is no safety code that mandates its complete removal.
Should You Have It Removed
Ultimately, this may depend on your budget. It's expensive to completely rewire a house, but damaged or improperly modified knob and tube wiring is a serious fire hazard. It's always best to have a professional electrician evaluate the situation.
A thorough home inspection can help uncover knob and tube wiring, along with other issues that affect older homes, such as faulty insulation, foundation issues and more. If you're in the Chicago area, call First Choice Inspectors at (773) 429-9711 to get your free quote today.