A home energy audit is something many homeowners choose to have done on their home. Simply put, a home energy audit is used to quantify a building's overall thermal performance. It also identifies the efficiency of the heating, ventilation, air conditioning equipment, and thermostat.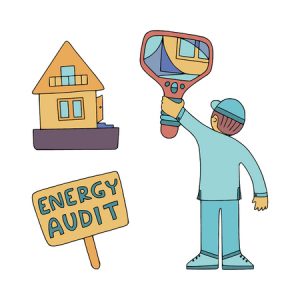 The Benefits of a Home Energy Audit
A home energy audit can help point out some important energy concerns that you may have from high energy bills and comfort levels with the home.
Here are some of the major benefits to a home energy audit:
Shows energy use for a given time period
Suggested energy improvements each year
Identify cost effective ways to improve comfort and efficiency
With these benefits, it is much needed for homeowners and building owners to consider getting an energy audit by a professional like First Choice Inspectors. We use thermal imaging canning, videoscope borescopes to check for missing or deficient insulation. Our moisture detection tools are used to check moisture levels.
What does a Home Energy Audit Include?

A home energy audit from us will include a written report with photos and thermal imaging overlays. This is necessary to estimate energy use given climate criteria, thermostat settings, roof overhand, and orientation. The audit can also include interviews of the homeowners, so that we can understand your patterns of energy use over time. An energy audit isn't meant to embarrass the homeowner, it's meant to help the homeowner understand their energy uses and how to improve them, so that you can save money and the environment.
Why Choose First Choice Inspectors
At First Choice Inspectors, we specialize in home inspections in the Chicago area. We have the expertise and experience to help you get an energy audit done on your home. If you have concerns for your home's energy, then we're the right people to call. Contact us at 773-429-9711!