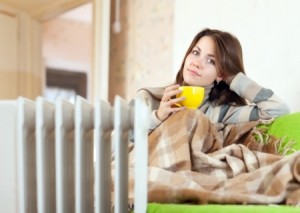 We're about a month into fall and already the temperatures are dropping and homeowners are preparing to hunker down for another cold winter. This time of year energy bills can suddenly become far more expensive, particularly if your home isn't adequately protected against the elements. By taking some preventative measures, however, you can keep your energy bills to a minimum and save yourself a tidy sum by the time spring rolls around.
Start by Sealing the Gaps
Take a walk around your home's exterior and keep a close eye out for any gaps around window panes and door jambs. Seal these gaps with caulk to prevent heat loss during the winter. If you have a fireplace, make sure that the damper is closed whenever it's not in use. You can also purchase insulating film from your local hardware store to seal off windows for the season. Just make sure it's pulled tight across the window and securely adhered to the window frame to prevent heat leaks.
Use the Sun to Your Advantage
Keep the curtains on south-facing windows open during the day to allow the sun to naturally heat your home. Once the sun goes down, close the curtains to trap that radiant heat inside at night. This will also provide an extra measure of insulation against any gaps you may have missed when sealing your windows.
Have Your Furnace Serviced
Maintaining your furnace will prevent mechanical breakdowns and ensure that it operates at peak efficiency during the winter. Be sure to change your furnace filter regularly, and have an HVAC technician perform a thorough inspection once a year.
Bundle Up
This is perhaps the most effective and underappreciated step you can take to keep your utility bills low during the winter. It costs a whole lot less money to put on an extra layer of clothing than it does to keep your thermostat 5 degrees higher all winter. Keep your thermostat set as low as you can tolerate, and set it back further when you're sleeping or out of the house. You'll acclimate to the lower temperatures before you know it, and you'll thank yourself come springtime.
Stay tuned for more home improvement tips and tricks from Chicago's premier home inspection company: First Choice Inspectors.